09th May 2016 Visiting "Escola Técnica da USP"  – São Paulo – Brasil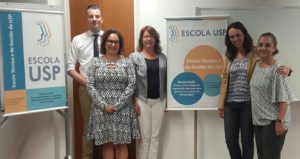 The "Escola Técnica da USP" (Technical and management School  of USP http://www.usp.br/escolausp/)  was established in August 2012 to provide ongoing training for professors  in management positions as well as to the supporting staff of the University.
The training and development processes are offered at a strategic as well as tactical level in order to prepare professionals to handle the dynamic changes demanded by significant changes of the environment in which the University operates as well as to keep the university values.
The school has partnership with other universities and agencies in order to compose a team of experts in different fields that can provide different kinds of courses and trainings by demand.
The meetings was held at the Cidade Uinversitária. We were received by Luciana Lelo the assistant director and professor Amaury Gremaud the director of the school.  Clara Bianchini, our alumini from the Imagineering masters (founder of Co-viva http://www.co-viva.com/) was also present together with my NHTV colleagues Arend Hardorff and Lucette Roovers.
We briefly presented NHTV with the courses we offer as well as our research lines and specially our Executive education, exploring topics that could be of value  to the school.
Professor Amaury shared with us the importance of this initiative as well as the challenges to create something new and innovative within the structure of USP.
Among the areas of interest professor Amaury pointed into the importance of  developing  new approaches in management as well as  innovative didactical methodologies of learning.  These are topics very closely related to our expertise at NHTV, where we already offer executive leadership training (in collaboration with Penn State University), "magical" management for the creative industries (especially theme parks), international classroom, etc.
After this first round of exchanging ideas we agreed that next step will be looking into the next trainings and develop a pilot to experiment this partnership.