03rd  May 2016 Visiting "Universidade Federal do Sul da Bahia " Bahia  – Brasil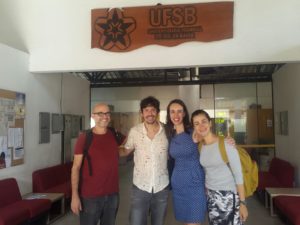 On the 3rd of May I had the pleasure to visit the Federal University of South Bahia, campus Porto Seguro. This is a young university in Brazil holding a very innovative structure and pedagogical format. The university intends to be developed responding to the current changes in the world being socially, culturally and economically relevant.
The curricular organization is in cycles and considers steps and stages of learning and development of the students. The Cycle System offers forms to students to gain more independence on their course, with diversity and autonomy on their own curriculum. They ensures a better preparation, in function of a progressive conception of learning.
The campus is a beautiful green area, full of trees and birds around the classrooms.
In the visit we talked about partnership, trying to find common grounds to develop collaboration. Among the topics we specially discussed sustainability and creative tourism, very relevant to the area.
UFSB is a young university with a different concept of high education and learning processes. It is context-centered in which knowledge and practices walk hand in hand. Students work closely to the communities and are sensitive to the territory and local culture. These values resonate very much with NHTV Breda University of Applied Sciences, being an university of applied sciences where students have active methodologies of learning and theories are always applied into communities and organizations.
The topics will be further developed in collaboration, having professors as well as student exchanges to learn from each other.